As our site develops interesting and helpful content, we hope that you will continue to be patient with us as we continue our work. Please do not hesitate to contact us if you have valuable information or photographs to share with us. All credit will be given where deserved! Many thanks – Panerai Central Team
Panerai traces its roots to nineteenth century Florence; where patriarch Giovanni Panerai established a shop on the Ponte alle Grazie, importing watch components from makers in Switzerland and assembling complete timepieces. His progeny were entrepreneurs who continued the business and expanded it. His grandson, Guido Panerai, in particular, extended the reach of the shop, then known as Orologeria Swizzera, by publishing a catalog and encouraging mail order business. Clients included numerous jewelers in the Tuscany region, and soon, the family business became the agent for several prominent Swiss makers, including Rolex and Patek Philippe.
In the early twentieth century, Guido Panerai became a supplier to the Italian navy. Several 1915 patents filed in the Europe and the US reveal Panerai's development of radium based illuminating devices for instruments such as aiming devices, compass dials and other navigation instruments. Panerai's glowing compound, dubbed Radiomir, was a mixture of radium bromide, phosphorent zinc sulfide and mesothelium. In Panerai's instrument designs, glass tubes were filled with Radiomir then mounted on the instruments. The quantity of the luminescent material that could be encased in the tubes produced superior brightness, far greater than that of instruments with painted on luminous coatings. In fact, the instruments seemed to glow even in daylight. Soon, Panerai was producing detonation timers and sights for torpedo launchers.
By the 1930s, Panerai had developed its first luminescent watch for military use. The top-secret project was aimed at supplying watches for navy commandos. Using cases and movements sourced from Rolex, G. Panerai & Figlio constructed the first Radiomir watch. The company's trademark luminescent compound was encased between two layers that formed the dial and its glow was visible through cut-out markers in the top layer. In addition, the hands contained tubes of Radiomir. The watch that went into production in 1938 had a 47mm cushion shaped case (Rolex Oyster G 6152 or G6154) with welded wire lugs; 15-jewle, 16-ligne Rolex movement screw in crown; black dial with four Roman numerals, four Arabic numerals and four indices; Plexiglas crystal; and extra-long strap made of oiled leather, appropriate for wear over bulky diving suits.
Within a year, the design began to change in response to special requests from the navy. The wire lugs were replaced by sturdier integrated lugs; the dial was redesigned with large Arabic numerals at 12, 3, 6, and 9 and baton indices on the remaining hours; the hands were enlarged; and the water resistance of the winding crown was improved with a lever locking device that pressed it against the caseside when not in use. Also around this time, Angelus movements replaced Rolex movements in some models and the names Radiomir and Panerai were added to the previously unmarked dial. In this form, the timepiece became the first professional diving watch.
Panerai watches and other luminescent devices such as wrist compasses and depth gauges were vital to Italy's navy operations during World War II. The navy pioneered the use of underwater assault craft during World War I, and by the 1940's, slow-moving manned torpedoes known as SLCs had been produced, and a special training program was established to prepare divers to use them. Known as the Gamma Group this segment of the navy embarked on 23 missions between 1940 and 1943. The heroic exploits of the elite Gamma men required them to operate machinery, locate targets, aim weapons, time explosives and escape danger – all under water. They relied on precision instruments that were easy to read in the murky depths without a light source that might attract the attention of the enemy. Panerai's luminous system made that possible.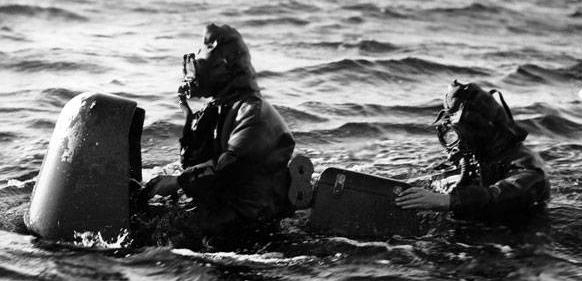 Following World War II, Panerai watch and instrument production continued using existing supplies of parts. Luminescent Radiomir was gradually replaced by a safer Tritium-based substance known as Luminor, and postwar dials were variously marked with Radiomir, Marina Militare or Luminor names. Production also included both screw-in crowns and lever-locked crowns.
In the 1950's Panerai used a new case style and an 8-day Angelus movement to create a watch for the Egyptian navy. The large, polished steel case of the final version has a rotating bezel with round markers placed at five minute intervals. IN this period, Panerai also produced deck clocks, wall clocks and clocks for mounting on machinery.
Although very few watches were produced between 1945 and 1993, research and development continued at Panerai. For example, a prototype titanium-cased watch, developed in the 1980s, was designed to withstand water pressure at 1,000 meters.
Panerai watches were first offered for sale to civilians in 1993. This production comprised limited edition versions of the Luminor, Luminor Marina and Mare Nostrum, a chronograph with tachymetric scale, which was originally conceived in the early 1940s as a timepiece for naval officers but had never entered production.
The watches quickly gained a following among discriminating consumers. In 1995, at the request of actor Sylvester Stallone, Panerai produced limited series of Slytech watches: the Slytech Luminor Submersible, Slytech Luminor Daylight and Slytech Mare nostrum. The casebacks of these watches were engraved with Stallone's signature, and some were worn by Stallone on screen, increasing the visibility of the military style timepieces.
Acquired in 1997 by the Vendome Luxury Group, now Richemont, Panerai was quickly launched as a worldwide… (to be continued)